Jurassic World: Dominion Dominates Fandom Wikis - The Loop
Play Sound
Airwolf ( Bell-222A)
Airwolf is the title aircraft from a 1980s television series.
The aircraft itself was a modified Bell 222 twin-engined light helicopter owned by JetCopters Inc. and built by Bell Helicopter.
Bell 222
The flying Airwolf helicopter was actually a Bell 222. The Bell 222 has two Lycoming turboshaft engines, a streamlined shape, and is available with either retractable undercarriage or fixed skids.
It is usually flown single-pilot (optional dual controls are available), and can be configured for corporate/executive, EMS or utility transport missions. The aircraft can be configured for accommodations of up to 10, including pilot.
The airframe used for Airwolf was serial number 47085 (registration number N3176S).
The Bell 222, sometimes unofficially called a Bell 222A, was the fifth-to-last built before the 222B was released.
During filming of the series the helicopter was owned by JetCopters Inc . in Van Nuys, CA
After the show was cancelled the modifications were removed (now owned by a private collector) from the actual helicopter. It was repainted and eventually sold to the German helicopter charter company, Hubschrauber-Sonder-Dienst (aka HSD Luftrettung and Blue Helicopter Alliance), and given the registration number D-HHSD. While operating as an air ambulance the helicopter crashed in a thunderstorm on June 6, 1992, killing its three passengers.
The Lady's Last Flight.
Angel of Mercy...
On the afternoon of Saturday, June 6th, 1992, D-HHSD (as the Airwolf helo was known) was flying a little girl suffering from heavy burns on a mercy mission from Berlin to the Cologne University Burns Unit in Köln. After safely delivering the girl, the helicopter and its crew of three was returning to Berlin when they encountered unexpected weather. With the visibility reduced to nearly 100 feet due to fog amidst a brewing thunderstorm, the copter's 42 year old pilot must have struggled to navigate the wooded German mountainsides.
Unfortunately, at 2:30 in the afternoon, at a speed of nearly 100 miles an hour, the helicopter impacted near a rock quarry near Halbeswig. Its rotor blades clipped the tops of several tree, and then struck the mountainside. A nearby farmer heard, during his work, a big bang, and alerted emergency services. But, given the weather conditions, it took about an hour before the rescuers could find the wreck site. When they arrived, they found the helicopter was broken in half in the middle, the engine destroyed, and the 3 occupants, including a 38 year old doctor and his 31 year old assistant, all had been killed in the impact.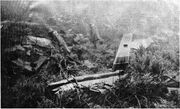 A New Airwolf?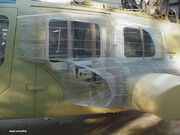 A new, full-size replica (nonflying) of the Airwolf helicopter was created for display in the short-lived Helicopter Headquarters museum in Pigeon Forge, Tennessee that opened in August 2006, using a non-flying Bell 222 (now housed in the Museum of Aviation, Sevierville, Tennessee) with molds taken directly from the originals used in the show. The non-flying aircraft still sits in the Museum of Aviation.
External links