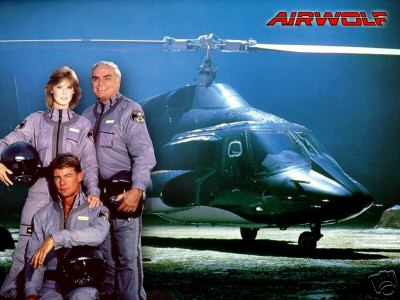 Airwolf Wikia will serve as a detailed information database regarding all aspects of the popular 1980s television series Airwolf. See Home
Vietnam war veteran Stringfellow Hawke, helped by his old friend and mentor, Dominic Santini, recover the most advanced combat helicopter ever designed, Airwolf. But, the opportunity to use the helicopter as a means of furthering the search for his missing brother, St. John, prevents String from returning it the enigmatic organization known as the The F.I.R.M., a top-secret branch of the CIA. In exchange for information related to St. John, Hawke and Dominic promise to use Airwolf responsibly and undertake missions of national security.
Production history
Created and developed by Donald P. Bellisario, with the earliest music being performed by Sylvester Levay, Airwolf's earlier seasons were dark, arc-driven, and quite reflective of the contemporary Cold War. The series ran for 55 episodes on CBS in the United States in 1984 through 1986, and an additional 24 episodes, with a new cast and production company, aired on the USA Network in 1987, for a total of 79 episodes. The first episode was a two-hour TV movie that was re-edited and released as a standalone direct-to-video film, marketed as 'Airwolf: The Movie'. The show was broadcast in several international markets.
Airwolf is rarely shown on TV channels today, although a syndication package does exist and occasionally appears as re-runs. In December 2006 and May 2007, the series was given "marathons" on the Sci Fi Channel, to promote the DVD releases of Seasons two and three, respectively. Also it was part of Fandomon Military on TV Land too.
List of Articles
Regular Cast Seasons 1-3
Production Crew' Seasons 1-3
Guest Stars Seasons 1-3
Guest Stars Seasons 4
Characters Seasons 1-3
Background
Seasons
Media
In cases where a general search term or link may have more than one relevant meaning, disambiguation articles specifically distinguish the possibilities and provide direct links to the appropriate article.
Community content is available under
CC-BY-SA
unless otherwise noted.