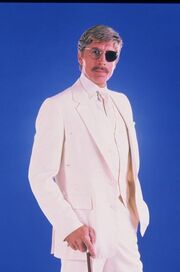 Alex Cord portrays Michael Coldsmith-Briggs III, codename "Archangel " in Seasons 1-3 of Airwolf.
Born Alexander Viespi of Italian descent in Floral Park on Long Island, New York, Cord was stricken with polio at the age of twelve. His family then moved to Wyoming, where doctors advised him to take up horseback riding as a therapeutic exercise. This helped him recover from the debilitating disease by the time he was sixteen.[1] Cord attended New York University in New York City and theAmerican Shakespeare Theatre at Stratford, Connecticut.
Cord's first acting role was in the 1961 episode "The Mountain Men" of NBC's western television series, Laramie, starring John Smith and Robert Fuller. In the story line, Cord plays John Sanford, the younger, compassionate son of Ben Sanford, portrayed by Dan Duryea. Ben Sanford is one of the original settlers of the Laramie area and is called a "Mountain Man." The older son is the vindictive Carl Sanford, played by Jason Evers. Ben and Carl seek vengeance for the killing of a third son, but John's hesitation holds the key to law and justice.[2] Cord's second role came a month later as Nino Sanchez in the episode "Winter Quarters" of a CBS western, Frontier Circus, starring Chill Wills.[3] In 1962, he appeared as Larry Rome in the episode "Take a Number" of the NBC crime drama Cain's Hundred, starring Peter Mark Richman.
Cord subsequently appeared in the 1962 film, The Chapman Report, directed by George Cukor. He briefly enjoyed a leading man status on the big and small screen during the 1960s and 1970s, and starred or co-starred in mostly crime dramas, action films, and westerns.
In 1963 and 1964, Cord was cast as different characters in five episodes of the CBS drama/adventure series, Route 66, including the role of Michael in the two-parter, "Where There's a Will, There's a Way." In 1964, he played the part of Sam in the episode "If Your Grandmother Had Wheels" of another CBS drama, East Side/West Side, starring George C. Scott. During this same period, he appeared twice on the ABC police drama, Naked City, starring Paul Burke.[3]
In 1965, Cord was cast as Jed Colbee in the episode "Survival" of the NBC western series, Branded, starring Chuck Connors as a United States Army officer trying to clear his name of a false accusation of cowardice.[3]
In 1966, he played "the Ringo Kid," the role originally portrayed by John Wayne in John Ford's 1939 version, in a lavish all-star remake of Stagecoach, which arguably remains Cord's most heavily publicized endeavor.
In 1974, Cord worked twice with Diana Muldaur: as a guest-star on her weekly NBC series Born Free and as her love interest in the motion picture Chosen Survivors, an apocalyptic horror film that acquired a cult status in subsequent years.
Cord is among a handful of actors to appear on both the original and revival versions of CBS's Mission: Impossible. Cord is also known to science fiction enthusiasts for having portrayed Dylan Hunt in the failed 1973 television pilot, Genesis II, which was created by Gene Roddenberry. In 1977, he starred as the title character in the epic westernGrayeagle.
In 1972, he appeared as Pete Brown in the episode "The Sodbusters" of the long-running CBS western, Gunsmoke. In 1973, he played the role of Haynes in "The Night of the Long Knives" on the ABC crime drama, The F.B.I., starring Efrem Zimbalist, Jr. Between 1973 and 1976, he appeared in four episodes of NBC's Police Story. In 1979 and 1981, he appeared twice on ABC's romantic comedy, The Love Boat. In 1988, Cord was cast in an episode of the CBS detective series Simon and Simon; in 1988 and 1992, he appeared on CBS's Jake and the Fatman. He appeared twice in another CBS crime drama, Murder, She Wrote, starring Angela Lansbury. In 1995, Cord played the character Larry Curtis in the episode "The Guardians" of the CBS crime drama, Walker, Texas Ranger, starring Chuck Norris.[3]
Cord had two children, a daughter, Toni Aluisa, and a son, Damien Zachary Cord, who died in 1995 of a heroin overdose at the age of twenty-six. Toni is the daughter of Mary Ann Hutchinson, and Damien was born to Cord's former wife, actress Joanna Pettet. 
Cord is a horse rancher in Cooke County near Gainesville in north Texas, where he resides with his third wife, the former Susannah Moller. Cord suggested that his long-term friend from Laramie, Robert Fuller, also move to Texas to raise horses. Fuller and his second wife, Jessica Savidge, did relocate to Cooke County in 2004. Cord and Fuller often make appearances at western film festivals highlighting their continuing mutual interest in "The Spirit of the Cowboy."
Alex spends much of his time writing and running his own Facebook page.
Podcast and Interviews
Western Trails TV show episode Alex Cord special guest

Alex playing Archangel, also appeared on the popular English podcast [[2]].
Alex being Interviewed About his life after Airwolf.
Published on Dec 28, 2015
In this episode of the Western Trails TV talk show hosted by Bob Terry Alex Cord is the special interview guest. Alex starred as The Ringo Kid in the 1966 version of the Western Movie Stagecoach. A remake of the 1939 John Ford Classic movie starring John Wayne. One of the few remakes of a western movie that also shows greatness. The John Ford version made John Wayne a Star and the 1966 version helped make Alex Cord a star also! Alex also starred in several other movies including Synanon, The Brotherhood (with Kirk Douglas) and A Minute to Pray and a Second to Die. Alex was also on the very first episode of the Branded Western television series show starring Chuck Connors and guest starred in many other TV series like Gunsmoke. Alex Cord also starred as Michael Coldsmith-Briggs III also called Archangel in the Airwolf TV series. Alex is also a horse trainer and has contributed very much in helping to preserve the American West. The show Western Trails Features people who contribute to the preservation of the American West. This series was created by Bob Terry and is produced by Westerns On The Web. http://www.westernsontheweb.comm watch hundreds of free western movies and TV show episodes online.[1]
 	 	  

Trivia
He has an official fan page that he runs himself called Alex Cord
He has released several novels including "Sandstorm"  and "A Feather in the Rain" he also has two new projects in the works. A memoir is scheduled for release later in the year. [5]
Alex was invited to spend time with Elvis Presley after Elvis saw his performance in the movie "Synanon."
Alex won a Glyph award for his book "A Feather in the Rain."
Alex Cord has expressed an interest in voicing "any villain" in a cartoon.
Alex is a strong advocate of animal rights.
References
<references>