Condemned was the 23rd episode of Airwolf and the 12th episode of Season 2. The episode first aired on 1/5/1985. Caitlin has a large role in this episode but Dominic does not appear at all. Archangel delivers the mission briefing at the beginning but Marella, who usually supplies details on these occasions, is not present.
Plot synopsis
Hawke and Caitlin travel to remote island to find out what happened to a biological warfare research station there and to try to retrieve a vital antidote to a viral agent which the Russians have unleashed and has gone out of control in Afghanistan. They are forced into an uneasy alliance with a team from a Russian submarine which needs the antidote as much as they do.[1]
Episode summary
(spoiler alert - click on expand to read)
Story locations
Aircraft seen
Firearms and other weapons seen
Seasnake cruise missile - the submarine fires 3 missiles of this fictitious type while submerged. The stock footage of the missiles in flight are those of AGM-86 Air Launched Cruise Missiles.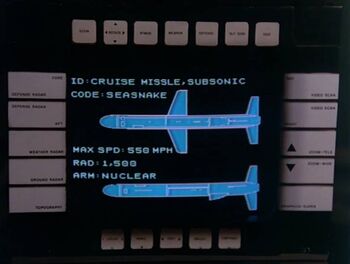 Research Notes
Zhukov introduces his submarine as the oceanographic vessel "Maxim Gorky". This is, of course, a fictitious ship. The image of the submarine matches no known Soviet design.
Guest stars/Recurring cast
Jan Triska as

Captain Leonid Zhukov

Karla Triska as

Lieutenant Elena Loupani

Hank Garrett as

Dr. Morton

George C. Grant as

Torgovitch

Gene Scherer as Sailor #2
John Lander as Sailor #1
Gallery
References