Michael Coldsmith Briggs III is far more commonly referred to by his code name, "Archangel".
He constantly sent Stringfellow Hawke and Dominic Santini on missions in Airwolf, and, on an extremely rare occasion participated in an Airwolf mission.
He and Dominic threw joking insults at each other every now and then. As a result, they don't have the best of friendships.
As an employee of the F.I.R.M, he is seldom seen wearing any clothing that is not white.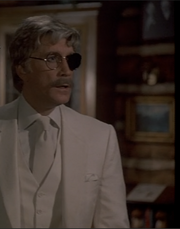 Archangel is the deputy director of the F.I.R.M, the top secret branch of the

CIA

that developed Airwolf in conjunction with Moffett.
In Season Four he was transferred to a different F.I.R.M office unable to help.
Actor who Played Him