Rosalind Gregory is a character who makes a one-time appearance in the Season 2 episode titled "The Hunted".
Biography
Rosalind Gregory is the ultra efficient and capable aide and chief of staff of wealthy industrialist Carter Anderson III. When Carter Anderson needs a secure mode of transportation to a secret meeting, she arrives at Santini Air to hire the exclusive services of Hawke and Dominic for the next 30 days. At first Hawke doesn't like the mystery surrounding the arrangements and being bought like "hunks of meat in a freezer". He gets even more upset by the intrusive security scans which Rosalind's men do in the Santini Air premises and he storms off to Carter Anderson's fortress-like residence to demand an explanation. Hawke calms down when he hears what is at stake and agrees to the contract.
Hawke and Rosalind warm to each other as they working together to plan the mission. At the final planning session which they hold with Dominic and Rosalind's assistant Tony Spandel at a bar, Hawke invites Rosalind to dance. "I haven't danced in years," she says. "Neither have I," replies Hawke, and they take the floor together.
This momentary distraction does not. however, prevent them putting a good mission plan together. Rosalind joins Carter Anderson III on board a King Air piloted by Caitlin which takes off from a secret airstrip. While enroute, they are ambushed by professional assassin Robert Villers in a Corsair but Airwolf, flying high cover, intervenes in time to shoot the Villers down.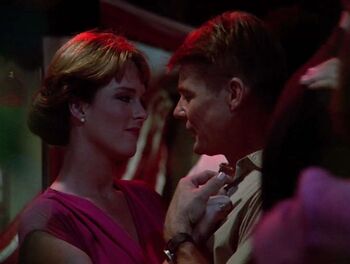 Portrayed By
Rosalind Gregory is played by Maggie Cooper.[1]

References