Plot synopsis
The prototype of a top secret highly capable tactical helicopter has been stolen by its designer. Michael Archangel turns to the only person he knows who can get it back: Stringfellow Hawke. Hawke will do it, but in his own way, and on one condition: Archangel must help him find his brother who went missing during the Vietnam War. [1]
Episode summary
(spoiler alert - click on expand to read)
Red Star
A secret test is about to take place in the desert where Archangel, project director for the CIA, is trying to convince Senator William Dietz that Airwolf is more than just the normal government combat helicopter. Archangel is running the experiment for the Senator because he is also the head of the powerful Senate Weapons Appropriation Sub-Committee and hopes the Senator will agree to reimburse the development costs of the copter and aid in the building of five more Airwolf models. Flown by its creator, Dr. Moffet, it holds two other crew members: A co-pilot/gunner and a Weapons\Electronic Systems Operator seated behind the pilot. However the helicopter is far from basic... it is awesome - complete with a twin-turbine driven rotor system capable of propelling it to 300 knots and exceeding Mach One (Max speed Mach 2); the capability of two additional turbines if needed; plus fourteen firepower options ranging from thirty millimeter cannons to nuclear-tipped Shrike missiles. as explained by Marella Airwolf successfully comes through the real, not simulated, attack yet concludes with Moffett destroying the Red Star's tower, airfield and leaving all personnel for dead - then stealing Airwolf.
Getting Airwolf Back
Three months later, An injured Archangel and his new assistant, Gabrielle, approach Stringfellow Hawke, a Vietnam veteran and onetime flyer for the CIA, with hopes he will recapture Airwolf which is now in Khaddafi's hands in Libya.
Hawke is a complex individual who lives with his hound, Tet, in a cabin by a lake high in the mountains. His dock is utilized as a helicopter landing pad; he serenades eagles with Prokofiev on his Stradivarius cello; is an avid fisherman; has a first-rate art collection which he said that his grandfather got it for his grandmother [2] -- and yet remains cold and distant...being the only survivor of anyone he has ever rescued. He works with Dominic Santini, best friend of Hawke's departed father, who raised Hawke from a young boy, and is now his employer as owner of a helicopter service for hire: "SANTINI AIR." Hawke agrees to work with Archangel with the condition the government help find his brother, Saint John, who was listed missing-in-action in Vietnam fifteen years before. His hard exterior slowly melts under Gabrielle's caring attention and understanding as they prepare for the mission. Hawke, secretly enlists Santini's aid.
The mission date is suddenly moved up when Moffett destroys two French Mirages, an American destroyer, and brutally murders their CIA contact, Angela, who fronted as a dancer at the Red Castle. Hawke finds that Gabrielle is chosen to replace Angela as the Libyan connection. Hawke and Santini enter Khaddafi's summer home in a fuel tanker complete with rifles intent on confiscating Airwolf. Meanwhile, Gabrielle has caught Moffett's eye and is taken to the desert where she is tied to a stake, tortured and left to die from dehydration -- Moffett's method of seduction and madness. Hawke learns of Gabrielle's abduction and through a rain of bullets and bombs steals the Airwolf back. Hawke and his team search the desert eventually finding Gabrielle who dies in Hawke's arms. Like a man possessed, Hawke, together with Santini, track Moffett and blow him and half the desert apart. He returns home with Airwolf, hiding it at a secret landing pad and refusing to return it until he receives sufficient information of his brother St.John's whereabouts. Archangel offers Hawke the committee's funding and protection from other government agencies if he will fly Airwolf on company business. Hawke promises nothing - at least for now.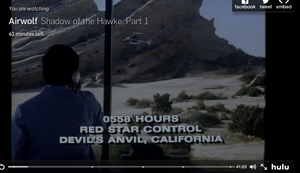 Story Locations
Aircraft seen
Airwolf
Hughes 500 - N58428. Used on movie set.
F-14 Tomcat
Firearms seen
Research Notes
Professional Recognition
Cast
Jan-Michael Vincent as Stringfellow Hawke
Alex Cord as Archangel
Ernest Borgnine as Dominic Santini
Belinda Bauer as Gabrielle Ademaur
Eugene Roche as Senator William Dietz
John Calvin as Blaze
W.K. Stratton as Chuck Sinclair - Airwolf's Engineer
Tina Chen as Faye
Deborah Pratt as Marella
Frank Annese as Major Mufta Ben-Kamal
Herbert Jefferson Jr. as Carrier Commander
David Hemmings as Dr. Charles Henry Moffet
Philip Bruns as Mitch - Director
DeeDee Rescher as Mona Kahn - Reporter (as Dee Dee Rescher)
Dean Wein as Mark Gordon - Airwolf's Co-Pilot
Nick Faltas as Libyan Officer #1
Steve Greenstein as Libyan Controller (as Steven Greenstein)
Gary Epper as Controller - Red Star
Dan Woren as Army Lieutenant - Red Star
Toby Norton as Radar Operator - USS Enterprise
Paul La Greca as Arab Boy (as Paul LaGreca)
Helene Phillips as Angela
Michael Santiago as Pilot's Voice (uncredited)
Gallery
References
External links
Community content is available under
CC-BY-SA
unless otherwise noted.