Stella Collarzo is a character who makes a one-time appearance in the Season 1 episode titled "Mad Over Miami".
Biography
Stella Collarzo is a Cuban dissident who lives in the Florida Keys. She helped her grandfather Ivan Rivera raise two million dollars to secure the freedom of two Cuban political prisoners, Ramon Collarzo, a prominent writer and her father, and Father Gomez. When the right wing counter revloutionary Sanchez hijacked the ransom money, leaving the prisoners stranded, Stella thought that Dominic, who had been asked to handle the prisoner exchange, had stolen the money. She kidnapped him from a local bar to demand the money back. Hawke convinced Stella and her grandfather to let them try again, with three million dollars of ransom money which he had squeezed out of Archangel. For the second attempt, Stella insisted on coming along with Dominic as she didn't quite trust them.
Dominic later told Stella that her father was his friend amd "and a braver man I never knew. I have met some daughters just as brave, though."
Ivan Rivera, Stella's grandfather told Hawke that Stella was principled and idealistic. She did not approve of her grandfather borrowing some of the needed money for the ransom from Sanchez, who ran a private army full of ex-criminals. Ivan said Stella "burns with a bright flame", while such realpolitik was for old men, not for bright flames.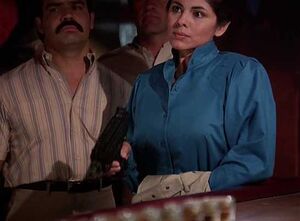 Portrayed By
Stella Collarzo is played by Gina Gallego[1] This is her only appearance on Airwolf.
References