Involvement with Airwolf
As he was one of the test pilots, Hawke was initially the only one who knew how to fly Airwolf after Moffett's death in 1984.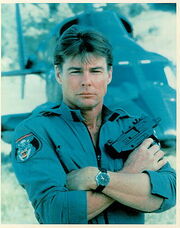 Bio
He has a collection of art that his grandfather collected. [1]
Hawke was a chopper pilot in the Vietnam War along with his brother St. John Hawke, who later went MIA. His last rank in the US Army was Captain, as his insignia can be seen on his camouflage utility cap.
He only agreed to return Airwolf to the F.I.R.M., a top secret branch of the CIA, whenever they found St.John.
In exchange, Hawke agreed to fly missions urgent to national security for the F.I.R.M., whose deputy director, Michael Coldsmith-Briggs III, Codename: "Archangel", provided logistical support for several of Hawke's missions in Airwolf .
References
Community content is available under
CC-BY-SA
unless otherwise noted.