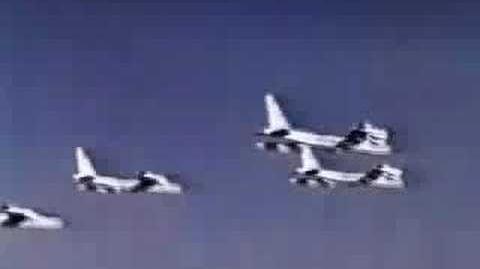 Plot
D.G. Bogard, a ruthless agent for a rival organisation to the FIRM plans a high intensity satellite survey which he is sure will unearth Airwolf's hiding place. Hawke has to find a new hiding place for Airwolf. Bogard is determined to find the super copter at any cost. He threatens to blow him and Airwolf up if Hawke does not surrender the chopper. But Hawke is not ready to give up Airwolf--not without a fight.
Meanwhile Dominic responds to a mayday call and picks up Antonia "Tony" Donatelli, a lady pilot whose small plane had made a forced landing. He really does not want to be held up by her, and he is suspicious of her being out there in such an isolated area but he agrees to give her a lift. Hawke is also suspicious of her but then he has the idea that she might help him evade Bogard.[1]
Episode summary
(spoiler alert - click on expand to read)
Story Locations
Aerial Boneyard at Mojave Air and Space Port [2]
Aircraft seen
Airwolf
Bell 206 JetRanger - belonging to Santini Air and 3 others in olive drab belonging to Bogard.
Bell 206L LongRanger - Angel 1 and a silver colored one belonging to Bogard callsign Black Leader.
Boeing-Stearman PT-17 - Antonia's aircraft
McDonnell Douglas F-4 Phantom - stock footage. Two F-4s callsign Silver Flight are sent by Bogard to pursue Airwolf
Douglas A-4 Skyhawk - stock footage.
Boeing B-52 - stock footage of final bomb run.
Douglas C-133 Cargomaster - Hawke hides Airwolf under the wing of one at the aircraft boneyard
Other aircraft in the background at the aircraft boneyard:[3]

Lockheed T-33
Boeing 707
Douglas DC-8
Convair C-131 Samaritan

Skylab - stock footage of Skylab is used to represent a surveillance satellite
Firearms seen
Research Notes
This episode features a briefing from File A56-7W - [2] just after the beginning credits
Guest stars/Recurring cast
Kathleen Lloyd as Antonia "Toni" Donatelli
Lance Legault as D.G. Bogard
Deborah Pratt as Marella
Jeff MacKay as Sergeant Willie Nash
Hank Brandt as Colonel Ellinson
James Edgcomb as Agent Dickens
Peter J. McKernan as Pilot
References
External links
Community content is available under
CC-BY-SA
unless otherwise noted.